EMPOWERING STUDENTS WITH TECHNOLOGY
Vivacity Tech Student Repair Academy provides K-12 school districts across the nation with the curriculum, tools and resources they need to develop a Student Tech Team.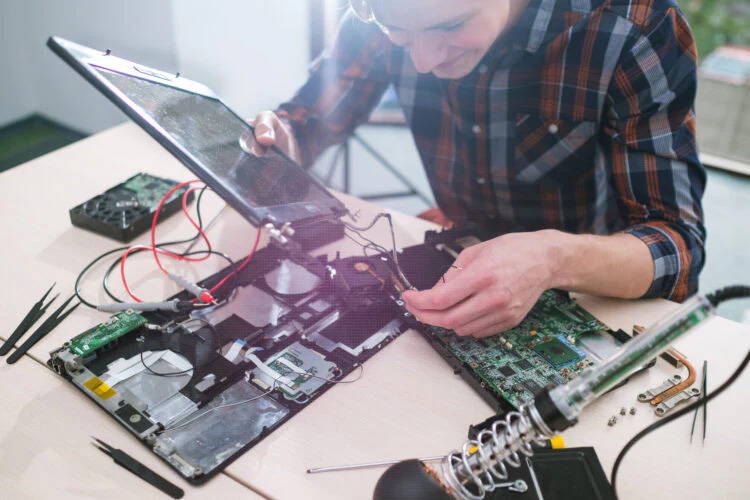 One of the greatest assets a school can have is its students. Education, these days, requires that students develop skills for the 21st Century and that they experience real world problems while developing real world solutions. A student repair program meets these requirements. Students who participate in a student tech team program gain valuable experience and marketable skills for the workforce while serving the school community.
In the Vivacity Tech SRA program students will learn the basics of repairing a Chromebook, how to provide high quality tech support, exceptional customer service, and more while repairing their school's educational technology/Chromebooks.
Student tech teams not only help with resolving device issues, but they also provide an opportunity for students to take on leadership roles in the school, develop STEM-based skillset, and collaborate in an innovative learning environment.
As you venture into SRA your students will gain skills that will help them serve the school and possibly even the greater community. The real world, relevant experience they gain as a part of your school's tech team will prepare them for a basic tech support position.

STUDENT BENEFITS
Basic fundamentals of a computing device; including components, software, hardware and troubleshooting tactics

Managing a healthy repair workflow including; how to create support tickets and techniques or tracking and documentation

How to repair school issued devices to help operate a student-led repair center

Safety and best practices of a computer technician along with proper usage of tools

The 4C's of the 21st Century – Communication, Collaboration, Critical Thinking, and Creativity

Customer service skills and traits of working as a team member
DISTRICT BENEFITS
Utilize students to assist tech staff in maintaining their fleet of Chromebooks

Minimize downtime for damaged devices

Reduce money spent shipping devices to repair centers

Give students a platform for hands-on learning
Our curriculum includes everything students need to succeed as student technology leaders. Students will demonstrate an understanding through successfully completing quizzes, creating Google Slide presentations, creating screencast recordings, creating digital flashcards online, Google Doc based worksheets, develop a student tech team creed, and practice their technical writing skills by developing step-by-step repair instructions.
STUDENT REPAIR ACADEMY INCLUDES
Fundamentals of Computing – Discusses concepts related to types of computers, the evolution and history of computers, operating system functions, Chromebook components, and more.

Best Practices and Essential Skills of a Technician – Helps train students on the role of the 4 C's of the 21st Century play in the repair and maintenance of Chromebooks for your school district.
Repair Ticket Management – Trains students on the use of the Vivacity Tech Student Repair Center Portal and workflow.
Troubleshooting Chromebook Hardware and Software Issues – Helps train students in how to identify hardware and software problems prior to repairing them.
Device Repair Guides – In-depth training on how to repair specific Hp, Lenovo, and Dell Chromebooks, the general terminology associated with parts, and the required tools needed to perform repairs.
Final Project – Students will demonstrate a device repair, complete a self-assessment on learning objectives, and submit a course survey to obtain their certification.
Professional Profile – Students will showcase their knowledge and skills in Chromebook repair as they pursue a career in Technology.
SRA can be a class or adopted into an extracurricular club. We provide you with step-by-step instructions, provide professional training for teachers and faculty to effectively run the program, and can supply you with tools, replacement parts, and software to run your student repair depot.
CERTIFIED STUDENT REPAIR DEPOT
Student involvement in your school tech team, in partnership with SRA, will provide students with an opportunity to serve, grow, and make an impact in a meaningful way!